Having a lush, green lawn and a thriving garden requires plenty of water. Unfortunately, it isn't always easy to come by during the heat of summer. Keeping every square inch sufficiently watered is challenging, especially when you have a sprawling lawn or vegetable beds.
Thankfully, you can set up an irrigation system with oscillating sprinklers to ensure everything gets plenty of water, without the trouble of installing a permanent irrigation system. Oscillating sprinklers are portable and easy to use, making them a solid option.
This article focuses on the best oscillating sprinklers for lawns and gardens based on my 30 years of experience in the garden.
3 Best Oscillating Sprinklers
If you're in a hurry and need to know what your top options are, these are my top picks to help you get a greener lawn.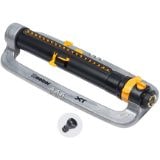 Best Overall Sprinkler
Powerful, heavy-duty sprinkler with 20 precision nozzles capable of covering up to 4,500 square feet.
Best Built-In Timer
Similar to the 3-way version, this one features a mechanical timer so you can set it and go.
Best Budget Sprinkler
Compact yet powerful with a desirable price point and the ability to cover up to 4,000 square feet.
By the way, our site is supported by visitors like you. Some links on this page may be affiliate links which means if you choose to make a purchase, I may earn a small commission at no extra cost to you. Thanks for your support! You can find out more here.
What is an Oscillating Water Sprinkler
An oscillating sprinkler features a single arm that oscillates across a 180-degree plane. The arm has small holes that allow jets to spray out in a fan, creating a rectangular spray pattern as it hits the ground.
Many oscillating sprinklers are adjustable making it possible to set the coverage area to a specific size, width and length. Allowing for efficient use of water, but also offering the user a great deal of control. This is useful if you want to keep a patio dry for example.
Oscillating sprinklers are excellent systems for watering lawns, but they can be helpful with other landscapes. Given the water flows in an arc, it's possible to water raised beds, tall borders, or stepped landscaping. The level of control you have over this type of sprinkler also makes them the best choice for watering new grass seed and sod. Showing the seed with a gentle spray pattern prevents the seed from being dislodged during germination.
Choosing An Oscillating Sprinkler
Selecting a new oscillating sprinkler can be overwhelming with so many choices available, they can all merge into being the same thing. But they are not, their spray delivery features and build quality vary significantly. 
You can narrow the field by comparing features to find the best option to meet your needs, like spray patterns, water pressure, lawn size, and whether you need a timer or not.
Choose A Sprinkler To Fit Your Needs
The most important thing to consider when choosing a sprinkler is how you intend to use it. Though people usually use oscillating sprinklers to water grass, they are versatile enough for garden flower beds due to the even spread of the sprinkler head. 
That means you can water your lawn and then shift it to your garden to give your flowers, fruits, and vegetables a good soaking.
Let's get a rundown of each of the main considerations that you need to take into account to find the best oscillating sprinkler for your backyard.
Lawn Size and Sprinkler
Your lawn size and shape can help you narrow down your options quickly. Oscillating sprinklers work best with square and rectangular spaces. If you have a round or triangular plot, it might be preferable to check out a rotating sprinkler that puts out a circular spray pattern.
You also need a sprinkler that covers enough square footage whether you have a large or small lawn a sprinkler has to roughly match up your lawn dimensions. Calculate your lawn's square footage by multiplying the width by the length. For example, if your lawn is 60 feet wide by 70 feet long, you need a sprinkler with a capacity of 4,200 square feet. 
Some sprinklers can deliver water over a very large area, or distance. I have covered these in my article best sprinkler for large lawns, so if you have a very large garden, then maybe jump over that article. It also features a few excellent oscillating sprinklers, as well as impact and traveling sprinklers.
Variable Spray Patterns
Oscillating sprinklers feature several jets along the arm that shoot water into the air, but they don't all have the same number of holes or arrangements. Most oscillating sprinklers have between 16 and 20 jets arranged in a line or set at different angles to increase coverage. Sprinklers with 20 jets do a more thorough job and cover more area than those with 16 jets.
If you imagine 16 jets of water are going to touch less ground than 20 jets of water within the same area. 
Many sprinklers also have adjustable spray features that give you more control over the spray area. The adjustable sprinklers usually have a knob or switch to alter the coverage area though the amount of adjustment varies.
Typically, sprinklers feature one or more of the following adjustment options:
Range: meaning the distance the water reaches from the sprinkler heads.
Width: adjustable width refers to the horizontal distance the water travels.
Water Flow: or how forceful the spray is from the sprinkler.
Not all sprinklers have the same adjustments or mechanisms. It's a good idea to consider your space and intended use to determine what adjustments are most important for your lawn. 
Do You Need A Water Timer
Setting your sprinklers on a timer will conserve water and save you time. You don't have to worry about remembering to turn the sprinklers on or off and still ensure your lawn gets what it needs.
Some sprinklers feature built-in timers, but in my personal experience, I prefer to use a faucet water timer. This offers more flexibility and it means the sprinkler itself has one thing less to worry about breaking or adding complications!
If you already have a water timer, then just get a stand-alone sprinkler.
However, if you want a water timer on your sprinkler, you need to consider how it functions. Many built-in timers need to be reset every time you use them whereas some external timers allow you to set start and end times.
Consider how you need to use the timer, like if you plan to take a vacation or need the watering to occur while you're at work. If so, make sure the timer can accommodate those needs.
Is It Suited To Your Water Pressure?
The standard water pressure for most sprinklers is 25 to 30 psi, which should work for most homeowners since homes average between 40 and 50 psi. If your water pressure is lower, your sprinkler won't reach the maximum coverage.
Conversely, when water pressure exceeds what the sprinkler handles, it creates a mist at the exit point. You might require an adapter to reduce the pressure going into the sprinkler to avoid wasting water and creating a mess.
Product Durability
Oscillating sprinklers typically use plastic or metal components. Metal sprinklers are heavier and support the oscillating components better, but they cost more. On the other hand, plastic is cheaper but as you will no doubt guess, it's not as durable or weather resilient.
Quality Of Connectors & Seals
Leaking sprinklers lead to puddles and wasted water. Weak connectors and rubber seals are the typical culprits in these cases. You would require replacement parts at the least, though faulty parts can render a product useless. Look for sprinklers with leak-resistant connectors, additional washers, and locking mechanisms.
I tried and tested the items on this list, and compared my findings against customer feedback. If you select a product elsewhere, make sure that the sprinkler has solid connections and that there's no mention of faulty seals.
Best Oscillating Sprinkler Reviews
Now that you know what to look for, let's take a look at the best-oscillating sprinklers on the market, including our top three choices. I selected these products for their features, technical details, and other qualities that set them apart from the competition.
Coverage: 4,500 square feet
Material: Metal and Acrylonitrile Butadiene Styrene
Connectors: Quick Connect Adapter
Nozzles: 20
Pros:
Adjustable range, width, and flow for custom spray
The aluminum base is rust-proof
Protected oscillating mechanism with a cleanable filter
Cons:
Does not feature a built-in timer
The Melnor Metal Turbo Oscillator with 3-way adjustment is the best overall sprinkler for several reasons. It's sturdy on the rust-proof aluminum base so you don't have to worry about it moving or flipping over. Plus, the oscillating mechanism sits in a protected chamber, so it doesn't get clogged.
The adjustment options and subtle features set it apart from the rest of the class. First, you can adjust the range and width to fit your rectangular space. You can also control the water flow in case you need to go lighter or heavier. The controls are easy to operate and you can create custom coverage to meet your needs.
You also get a cleanable filter washer and nozzle cleaning tool to keep it fully functional. This sprinkler also features a Quick Connect Product Adapter making it easy to hook up and take down.
The only real downside for this sprinkler is that it doesn't have a timer built-in. However, you can connect it to an external timer.
Coverage: 3,600 square feet
Material: Alloy steel
Connectors: Leak-resistant metal fittings
Nozzles: 16
Pros:
Fits a standard garden hose without adapters
Indestructible metal base
Adjustable range
Cons:
Can only adjust the range
The Aqua Joe Indestructible Oscillating Sprinkler is a solid choice at an affordable price. The indestructible base is sturdy and holds up well without being cumbersome. Plus, it has a closed chamber to protect the moving parts from damage.
The sleek, blue design is attractive and it won't get lost on the lawn or look like an eyesore. It's compatible with a standard garden hose, so you don't need any adapters to connect it to your hose. The metal connector is sturdy and features a cap that twists into place to prevent leaks.
Even though the company promotes the rubber nozzles as being clog-resistant, you get a clean-out tool with the sprinkler. The tool can clear out any debris that collects in the nooks and crannies, including the nozzles.
Sadly, the Aqua Joe only has one adjustment option and that's the range. You can dial it back to focus on a smaller space, but you can't create a wider or narrower spray.
Pros:
Two adjustment options
Durable plastic with metal components
Easy to maintain
Cons:
Requires higher water pressure to get max coverage
This German-made sprinkler is a popular option with some notable benefits. It's one of the more precise options on the market and has a sleek, low-profile design that is cold and UV-resistant. The Aquazoom is also easy to maintain with removable components that you can rinse out with tap water.
You can easily adjust the range and width of the Gardena Aquazoom. Turn a knob on the side to alter the range, which can cover areas as small as 300 square feet. A separate knob adjusts the widths to spray a narrower patch or reach widths up to 55 feet.
The only thing I noticed with this one is that it needs decent water pressure to reach the maximum range. If your water pressure trends toward 20 to 25 psi, you might not get the range you desire with this one.
Pros:
3 connectors included working with any standard U.S. tools
Patented dirt-resistant turbo drive
Metal construction with brass nozzles
Cons:
Some quality control issues
The Eden Heavy Duty Metal 3-way Oscillating Sprinkler is another solid option with some significant benefits. It features 20 brass nozzles for even coverage and a sturdy metal base. Plus, Eden uses a patented turbo drive securely located in a dirt-resistant chamber for extended life.
You can adjust the spray in three ways to achieve a custom spread. Control the flow with a dial on the far end and then adjust the range with a switch. You can also regulate the width by adjusting the nozzles with the touch of a button.
This sprinkler was easy to set up and use, and I was able to use it with multiple tools, including a water timer, thanks to the included extensions.
Unfortunately, I did notice that the flow waned after a few uses. After doing some research, it seems that some other users had similar complaints but it's not a widespread issue. Fortunately, Eden offers a two-year warranty on these sprinklers.
Coverage: 4,500 square feet
Material: Rubber, metal, plastic
Connectors: Quick Connect Adapter
Nozzles: 20
Pros:
Features a built-in timer
Encased oscillating mechanism
Sleek, low-profile design
Cons:
Features some plastic parts
This Melnor Turbo oscillating sprinkler is similar to the 3-way, but with a few minor changes. You can't adjust the flow with this variation, but you get a built-in water timer instead. The trade-off makes this one a solid option for those who forget their sprinkler and don't want to invest in more components.
Adjust the range and width by flicking a few switches to reach your desired area. Easily adjust the mechanical aqua timer on the hose end of the sprinkler to anything from 15 minutes up to two hours.
Though this is a smaller, sleeker sprinkler, it still features 20 nozzles, a cleaning tool, and a cleanable filter washer for easy maintenance. It's also sturdy without being cumbersome, making it a convenient alternative to some of the bulkier options, especially with the timer feature negating the need for cumbersome external timers.
The downside to this 2-way oscillating sprinkler is the addition of plastic parts. While it's mostly rubber and metal, there are some plastic components that don't hold up as well for extended use and might require repairs or replacement.
Coverage: 4,000 square feet
Material: Acrylonitrile Butadiene Styrene
Connectors: QuickConnect Adapter
Nozzles: 16
Pros:
Compact, durable design
Four-way adjustment
Encased infinity turbo-drive motor
Cons:
It's plastic and may not hold up as long
The MiniMax Turbo is the best oscillating sprinkler for those balancing functionality with cost. What it lacks in size, this sprinkler makes up for in features because it packs a lot of power.
Despite being substantially smaller than most sprinklers on this list, the MiniMax covers up to 4,000 square feet.
Aside from the price, the four-way adjustments might be the biggest selling point for this sprinkler. You can zoom in to irrigate a smaller space or focus on one segment, shift the nozzles to adjust the spray width, and alter the water flow. Additionally, this is the only sprinkler on the list with a swivel head that allows you to rotate the mechanism 360 degrees.
The unique design and features make this compact sprinkler a solid choice, but it may not last as long as some of the sturdier options. Since most of the components are plastic, the MiniMax is a cheaper option but that might mean replacing it sooner.
Coverage: 3,600 square feet
Material: Stainless steel
Connectors: Quick Connect Starter Set
Nozzles: 16
Pros:
Sturdy, weighted base for stability
Sliding tabs make adjustment easy
Twist-and-lock mechanism to prevent leaks at the connection
Cons:
Adjustment tabs could use an upgrade
The Eden Lawn Oscillating Sprinkler is another decent product with a good range and room to adjust the spray. It's a solid design with a weighted base that prevents it from flipping over and it has a relatively low profile.
You get plenty of power from the patented motor that's encased to prevent debris from impacting the moving parts. It's possible to adjust the range to cover an entire yard or just one side. Plus, it features a cleaning pin and additional stainless steel washer filters to prevent leaks at the connection.
This sprinkler seemed like a contender for the top spot, but I noticed that the adjustment switch started to fail. I did some research and found that others had similar issues with the adjustment failing and that meant no oscillation. It would be nice to see a locking mechanism or upgrade to this switch to improve the longevity.
Verdict: Best Oscillating Sprinkler
Hopefully, you now have a good idea about how to choose the best oscillating sprinkler to meet your lawn and garden needs. I believe the best overall option is the Melnor Metal Turbo Oscillator with 3-Way Adjustment because it allows you to customize the spray and it's one of the more durable options.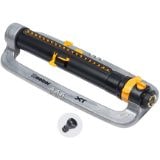 Best Overall Sprinkler
Powerful, heavy-duty sprinkler with 20 precision nozzles capable of covering up to 4,500 square feet.
If having a built-in timer is more important to you than adjusting the flow, you might want to consider the Melnor Turbo Oscillating Sprinkler with a 2-way adjustment and timer. You can still alter the range and width to accommodate your space, but the timer allows you to set it and go.
Best Built-In Timer
Similar to the 3-way version, but this one features a mechanical timer so you can set it and go.
Finally, for those budget-conscious gardeners, the Melnor MiniMax is a solid choice with plenty of power to cover up to 4000 square feet.
Best Budget Sprinkler
Compact yet powerful with a desirable price point and the ability to cover up to 4,000 square feet.
Any of these options can support your lawn and garden through dry spells to give you the look you love and keep your plants healthy.
Benefits Of Above-Ground Oscillating Sprinklers
There are so many irrigation options available that you might be wondering why you should purchase an above-ground oscillating sprinkler for your lawn and garden. All options have pros and cons, but the oscillating sprinkler has a lot to offer and works with most, if not all, landscaping schemes.
Easy To Use, No Installation
Underground irrigation systems are incredible and offer excellent coverage, but portable sprinkler systems are easier to use and require less setup. All you have to do to install an above-ground sprinkler is connect it to your hose, set any adjustments or timers, and turn on the water. It's almost foolproof.
Plus, you can shift portable sprinklers around your lawn and garden to cover any areas that need more water while avoiding those that might be oversaturated. You don't have to dig into your lawn or dig up any plants to accommodate an oscillating sprinkler.
Storage is easy, you can pack it up at the end of the season and store it away in your garage for next season. Just make sure you clean out any debris and dirt before storing it to prevent clogs and make sure it's ready for the next use.
Time-Saving
If you've ever had an in-ground irrigation system, you know that it can be time-consuming. You have to maintain the sprinkler heads and prepare them for cold weather.
Above-ground oscillating sprinklers require no pre-season or post-season maintenance. Other than an occasional cleaning, they don't need much upkeep.
You don't have to use oscillating sprinklers all the time, meaning you can set them out when your lawn needs a little extra and store them when not in use. There's no lengthy setup or teardown, just connect it to your hose and then disconnect it when you're done.
Spray Pattern Control
The best-oscillating sprinklers have multiple adjustable settings to control the range, width, and even water flow. It's possible to customize your sprinkler settings to reduce water waste and still get the lush, green lawn you desire. 
Plus, being able to adjust the spray means you can use it for vegetables, flowers, and other landscaping. Given the potential height and arc, you can get with an oscillating sprinkler, you could even water some hanging baskets and tiered gardening units.
Water Timer
Whether you select a sprinkler with a built-in timer or buy an accessory, being able to set your irrigation system is convenient. It prevents water waste and oversaturation to keep your landscaping healthy, without you having to remember to turn it off.
FAQs Oscillating Sprinklers
Below is the most common question people ask about oscillating sprinklers: