If you have a small garden, using a mini rototiller to loosen and aerate your soil will help save you time and energy.
But how do you know which mini rototiller suits you and your garden?
With many years of gardening experience, I have designed an essential buyer's guide and an excellent list of mini rototillers for you.
Whether you are just starting your gardening journey or are a master gardener who wants to update your methods, this article will teach you everything you need to know before selecting the best mini rototiller.
Best Mini Rototillers at a Glance
If you are short on time, check out my selections for the best rototillers in three categories…gas-powered, corded electric, and the best mini rototiller.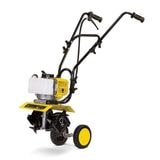 Best Gas Rototiller
With a robust 43cc engine and four earth-splitting tines, this powerful rototiller from Champion is perfect for fast, efficient cultivating.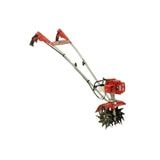 Best Mini Gas Rototiller
This mini rototiller is compact and lightweight but packs plenty of tilling power that quickly cuts through clay and sod.
Best Mini Corded Tiller
This 9-amp Mantis rototiller is a corded option that offers 12-inches of tilling width and up to 8-inches of depth.
By the way, our site is supported by visitors like you. Some links on this page may be affiliate links which means if you choose to make a purchase, I may earn a small commission at no extra cost to you. Thanks for your support! You can find out more here.
Choosing a Mini Rototiller for Small Yards
When choosing a mini rototiller for your garden or small yard, there are several specifications you need to be familiar with.
Read through this comprehensive guide to learn everything you need about power options, tine layouts, safety features, and more.
Gas Engine Power
A gas-powered engine is one of the most commonly found forms of power for rototillers, regardless of size.
We measure gas engines in cubic centimeters (cc), a designation for the amount of displacement an engine has. When I say displacement, I am referring to the total volume of air and fuel pushed through the engine's cylinders by its pistons.
Manufacturers use either a 2-cycle or 4-cycle engine for their gas rototillers. A 2-cycle engine will cost less but requires a combination of fuel and oil. A 4-cycle engine is more expensive but runs on gas alone without needing to mix oil into the fuel tank. Not needing a fuel mix cuts down on the rototiller's environmental impact and makes it easier to maintain.
Gas engines are a favorite choice for commercial landscapers because they offer more power and durability than most electric-powered rototillers.
If you have a substantial space you need to cultivate, or if your soil consists of heavy material like clay, a gas-powered workhorse might be the best option.
Battery Powered
Battery-powered rototillers rely on one or more batteries, usually lithium-ion batteries, to power their motors.
Rototillers that use battery power offer unique advantages, such as being cordless and running cleaner than a gas engine.
A battery-powered mini rototiller will probably not be as powerful as a gas-powered model. Still, it will likely weigh less, cost less, and be easier to maintain.
As far as run times are concerned, battery power will depend on several factors, such as motor power and the number of batteries. However, the most important factor is storage capacity. Read the next section for a more comprehensive explanation of battery run times.
Battery Run Time
We measure any battery's storage capacity in ampere-hours (abbreviated as Ah or amp hour). Ah is a measurement of the number of hours it would take a certain amount of current to flow before completely draining the battery.
What matters for our purpose is understanding that the more amp hours a battery has, the more storage capacity it has and the longer it will run between recharges.
For instance, if a power tool requires 1 Ah of power, a 3 Ah battery will run for three hours before needing a recharge.
Corded Electric
The third type of power for rototillers is corded electric power. Corded tillers use an extension cord that runs from a power source such as a wall outlet in your home to the rototiller.
Corded electric rototillers are often the most affordable choice. They can be an excellent solution if you have garden beds and other landscape features close to your house or another power source.
On the other hand, the need to run an extension cord can be an unwanted extra step for some users. You also must be mindful of the cord as you don't want to accidentally run the rototiller's blades over the cord and damage it.
Engine Vs. Motor Power
The difference between a gas engine and an electric motor can be confusing if you have never had to compare them before.
One of the main differences is the units used for measuring power. I've already covered how we measure gas engines by their displacement, but there are different ways of measuring corded and cordless motors.
When looking at a corded rototiller's specifications, you will see measurements in amps. 
Amps, a shorthand for ampere, refers to the rate of electrical current flow. It helps us understand how much power a corded rototiller needs to pull from a power source. It is important to know because you must ensure your electrical outlet and extension cords are compatible with the rototiller.
For a cordless rototiller that uses a battery, the unit of measurement you need to understand is voltage or volts.
Voltage is the measurement of the difference in the electrical build-up between two points in an electrical field. The common analogy for voltage is that it is like the pressure level of water stored in a pipeline.
For a cordless rototiller, it is essential always to use a battery of compatible voltage; otherwise, the tool might not function and can even be damaged.
There are advantages and disadvantages for each power type.
Gas machines are more powerful, run longer than electric models, and are easier to refuel in the middle of a project. However, gas engines are louder, and produce exhaust, and the cost of purchasing gas is a never-ending expense.
Battery-powered motors are quiet, easier to start than gas engines, and require much less maintenance. On the other hand, this type of rototiller will have a shorter runtime than gas-powered versions. It also takes much longer to recharge a battery than refill a fuel tank.
Corded rototillers never run out of power and are usually the least expensive option. However, they're hard to use in large areas and lack the power of other rototillers.
Front, Mid-Tine, or Rear Tine
Manufacturers design their rototillers with one of three blade and engine configurations: front, mid, or rear tine.
Front tine rototillers have their tines situated in front of the engine. Front tine tillers are smaller, cheaper, and easier to maneuver.
Rear tine tillers have times behind the engine. These tillers are large, powerful machines that are good for significant areas of compacted soils and clays.
Mid-tine tillers are the least common type of rototiller and have their tines directly below the engine. Mid-tine tillers combine the size and maneuverability of front-tine models with the power and capacity of rear-tine rototillers.
Working Depth and Width of Tiller
A rototiller's working depth and width refer to the three-dimensional space that the tines on the tiller can reach.
Many tillers have adjustable widths and depths, giving you more options for loosening soil in your garden.
Working widths range significantly, with the tillers in this article offering options from 6-inches to almost 18-inches.
Working depths are also varied but usually fall between 6-10 inches.
Speed Settings and Controls
Some rototillers feature variable speed settings and other controls that provide more versatility and functionality for you.
Increasing the speed of the tines is useful when you want to loosen hard-packed soil while slowing the tines down can help conserve fuel or battery power to extend the tiller's runtime.
Weight and Portability
Factors such as weight and portability are essential when considering maneuverability, transport, and storage.
Consider whether you plan on loading your rototiller into a truck or other vehicle frequently. Also, think about where you want to store the machine when you're not using it and how much space you have available.
You should think about your yard or garden space as well. Is the terrain rocky, wet, or uneven? A heavy or hard-to-control rototiller magnifies the difficulties of working on these landscapes.
Generally speaking, you want the lightest and smallest rototiller you can find that still offers enough power, size, and control to tackle your landscaping and gardening needs.
Safety Features
Many rototillers are designed with a safety switch or catch that prevents the tiller from accidentally starting. A safety switch is helpful when you need to step away, or perhaps in front of the tiller, and don't have your attention on the tiller's blades.
For some rototillers, the safety switch also acts as an emergency kill switch that will instantly stop the tiller as soon as you use it.
Best Mini Rototiller Reviews
Here are my reviews for nine of the best gas and electric rototillers you can use in your small garden.
Power Type: 2-stroke 43cc engine
Width: 17.7-Inches
Tines: Front Tines
No. of Tines: 4
Tilling Width: 17.7-Inches
Tilling Depth: Up to 6-Inches
Pros:
Extra wide 17.7-inch tilling width makes big jobs much easier
Cons:
Limited tilling depth of 6-inches
I can't say enough good things about this Champion gas-powered mini rototiller. Its powerful 43cc engine and four hardened steel blades make quick work of hard, dry soil.
The six-inch handles are comfortable to hold and make maneuvering the tiller a breeze.
With almost 18-inches of tilling width and an adjustable depth of up to six inches, this mini rototiller is versatile enough to handle practically any tilling, cultivating, weeding, or digging task.
Power Type: 2-stroke 43cc engine
Width: 18-Inches
Tines: Front Tines
No. of Tines: 4
Tilling Width: 6-10 Inches
Tilling Depth: Up to 8-Inches
Pros:
Overhand control and throttle switch make maneuvering this tiller easy
Cons:
Does not have adjustable speed controls
This mini rototiller from Toro is a robust jack-of-all-trades machine that will allow you to aerate and cultivate your soil with speed and efficiency.
It has four steel tines with SRT tine rotation and a 0.29-gal fuel tank to work longer between refills.
You can reach depths of down to eight inches with this tiller and till sections of either six or ten inches wide.
Power Type: 2-cycle 43cc Viper engine
Width: 20-Inches
Tines: Front Tines
No. of Tines: 4
Tilling Width: 6-10 Inches
Tilling Depth: Up to 8-Inches
Pros:
The high-performance Viper engine outclasses other 43cc engines
Cons:
Weeds and long grass can be hard to remove from the tines
The 43cc Viper engine on this Earthquake mini tiller is so strong that you won't believe how fast you can cut through the soil in your garden.
Adjusting the depth up to eight inches is easy, and the 10-inch tilling width gets the soil loosened faster with fewer passes.
I found this tiller to be easy to control, and it is light enough that loading it into a vehicle for transport was a simple enough task.
Power Type: 4-cycle 35cc Honda GX35 engine
Width: 17.25-Inches
Tines: Front Tines
No. of Tines: 6
Tilling Width: 7, 13, or 16-Inches
Tilling Depth: Up to 8-Inches
Pros:
Six times make quick work of compacted soil, and you can remove them for different tilling widths
Cons:
It weighs 50 lbs which makes it harder to maneuver
From the masters at Maxim, this 2-in-1 mini tiller and cultivator features a wide 6-tine array capable of tilling sections of soil up to 16-inches wide and going up to eight inches deep.
The Honda GX35 engine is durable and capable of speeds up to 250-RPMs.
This tiller also comes with a practical carrying handle that also serves as an additional layer of protection for the engine and fuel tank.
Power Type: 4-stroke Honda GX25 engine
Width: 23-Inches
Tines: Front Tines
No. of Tines: 4
Tilling Width: 6-Inches or 9-Inches
Tilling Depth: Up to 9-Inches
Pros:
Super easy start-up for a 4-stroke gas engine
Cons:
The small tank only holds 0.14-gal of fuel
Honda's 25cc mini tiller is an excellent speedster with a max speed of 294-RPMs that spins the four steel tines quickly for maximum effect.
You can choose between a six-inch or nine-inch tilling width and can stir up the earth to a max depth of nine inches.
I found the engine easy to start up, while the overhand controls make it simple to maneuver.
Best Mini Electric Rototiller
Power Type: Corded 120-volt 9-amp motor
Width: 15-Inches
Tines: Front Tines
No. of Tines: 4
Tilling Width: 12-Inches
Tilling Depth: 8-Inches
Pros:
This tiller's two speeds and three depth positions provide a lot of versatility
Cons:
Might be too lightweight for heavy-duty tasks
This corded tiller from Mantis starts with the push of a button and gives you the opportunity to select between 260-RPMs or 310-RPMs.
You can also adjust the wheels to three depths up to eight inches. The max till width is about 12-inches.
This electric tiller is very quiet, making it an excellent choice for residential neighborhoods. It only weighs 24 lbs, and the padded ergonomic handle makes it comfortable to operate.
Power Type: 2-cycle 21.2cc engine
Width: 9-Inches
Tines: Front Tines
No. of Tines: 4
Tilling Width: 9-Inches
Tilling Depth: 10-Inches
Pros:
Foldable handles and lightweight design make this mini tiller easy to transport
Cons:
Takes a little extra effort, in the beginning, to get the tines to bite into the soil
Mantis' 2-cycle gas tiller is the definition of a "mini" rototiller. Their website reports that it weighs only 20 lbs which is great if you want to lift it into a raised garden bed or over decorative landscape trims.
You can till the soil in nine-inch wide sections to a max depth of ten inches with the tiller's four tines. And thanks to the unique design of this tiller's infinite speed throttle, you can find the perfect pacing up to 240-RPMs.
Power Type: Corded 13.5-amp motor
Width: 19-Inches
Tines: Front Tines
No. of Tines: 6
Tilling Width: 11-16 Inches
Tilling Depth: 8-Inches
Pros:
Six times and a max 16-inch till width make it a tremendous electric option for tilling larger spaces
Cons:
Bail wire switch can be awkward to hold for long periods
This 13.5-Amp corded tiller from Earthwise could outperform a lot of gas tillers I have used in the past.
It features six tines across a 16-inch till width for quick, efficient performance. And with a max depth of eight inches, it should be able to handle most tasks in your small garden.
The machine is lightweight, and the handles are comfortable, but the bail wire requires a finger grip instead of a thumb grip which can become tedious after a while.
Power Type: Cordless 48-volt iON+ battery system
Width: 16.4-Inches
Tines: Front Tines
No. of Tines: 4
Tilling Width: 14-Inches
Tilling Depth: Up to 7-Inches
Pros:
Offers an impressive 35-minute runtime with two 24-volt iON+ batteries
Cons:
The batteries can take as long as 55 minutes to recharge fully
This cordless rototiller uses two 24-volt batteries and a 500-watt brushless motor that gives you excellent tilling performance for up to 35 minutes.
It is remarkably quiet, and the easy-glide wheels make it simple to steer over any terrain.
The four tines are cut as deep as seven inches, and with a max width of 14-inches, you will have no trouble tilling your garden with speed and precision.
Verdict: Best Mini Rototiller For Small Gardens
That's it for my buyer guide and list of the best rototillers for small gardens.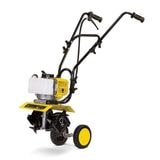 Best Gas Rototiller
With a robust 43cc engine and four earth-splitting tines, this powerful rototiller from Champion is perfect for fast, efficient cultivating.
If you need a powerful, durable rototiller that will cut through even the densest soils, check out Champion's 2-Stroke 43cc Gas Mini Rototiller.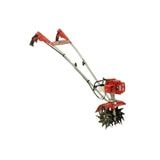 Best Mini Gas Rototiller
This mini rototiller is compact and lightweight but packs plenty of tilling power that quickly cuts through clay and sod.
Or, if you want a small rototiller without a gas engine's weight and fumes, try the corded Mantis 3550 Electric Tiller that uses an efficient 9-amp brushless motor.
Best Mini Corded Tiller
This 9-amp Mantis rototiller is a corded option that offers 12-inches of tilling width and up to 8-inches of depth.
Finally, if you want to combine a gas engine's power with a mini rototiller's lightweight maneuverability, the Mantis 2 Cycle Gas 9-Inch Rototiller is the tool for you.
Rototiller Vs. Cultivator: What's the Difference
You may see the terms rototiller and cultivator used interchangeably, but they are two different tools that serve similar but different functions.
A rototiller is a more robust machine designed to break up compacted soil to make planting and other landscaping projects more straightforward.
A cultivator is not well suited to breaking apart hard, compacted dirt. Instead, a garden cultivator is used to mix loosened soil with other materials such as fertilizer or grass seed.
What Can You Do With a Rototiller?
A rototiller can be valuable for landscaping and gardening, replacing hand tools like hoes, spades, shovels, and more.
You can use a rototiller to break up the soil, enabling you to mix it up for fresh planting. This process also aerates the earth, which boosts the growth of beneficial organisms in the ground.
Additionally, when using a rototiller, you can mix compost, fertilizer, and other additives into the soil more easily.
FAQs Mini Rototillers
Here is one of the most common questions I get about using a rototiller.
Final Thoughts
So there you have it: the best mini rototillers available. Whether you are just starting your gardening journey or have been gardening for years, we hope this article taught you everything you needed to know about how best to care for your garden.