Incorporating trees into the landscape around your home is always a good bet. They add dimension and interest. As well as shade, privacy, and your property's best friend, curb appeal. But, not every tree is a good fit for every space.
Luckily, nature makes trees in different shapes, sizes, and colors. This is especially fortunate if you're looking for trees that will serve a specific purpose, like a privacy barrier, or that will fit into a limited space.
This is where tall, skinny columnar trees for landscaping come in. These statuesque specimens were practically born to be planted as living privacy walls or to impart a sense of grandeur and formality. They also function as striking feature plantings in both small and large garden spaces.
Key Takeaways
Tall, skinny columnar trees offer a practical and stylish solution for landscaping in limited spaces, adding privacy and dimension to gardens.
Both evergreen and deciduous options provide year-round interest, from enduring evergreens to deciduous trees with changing foliage and ornamental features.
Understanding the purpose, growth characteristics, and maintenance needs of each tree type is crucial for creating a balanced and thriving landscape that enhances curb appeal and property value.
By the way, our site is supported by visitors like you. Some links on this page may be affiliate links which means if you choose to make a purchase, I may earn a small commission at no extra cost to you. Thanks for your support! You can find out more here.
Choosing Tall Columnar Trees for Landscaping
The number of skinny trees for landscaping available is pretty vast. I'm going to show you the absolute best ones for different garden sizes and hardiness zones. All of which will be low-maintenance and easy to care for.
In order to narrow down the best option for your particular space, ask yourself the following questions:
What will the purpose of this tree be? Privacy or ornamental
hat sort of tree do I want? (Evergreen or Deciduous)
How do I want it to look? (texture, color, etc.)
Will it fit my space? (Maturity size)
Do I want super low maintenance? (Pruning, watering, fertilizing)
As I introduce each of the following trees to you, match them against these questions. By the time you reach the end of the list, you may have found your perfect choice.
Narrow Evergreens for Screening Privacy
The beauty of evergreens is their enduring beauty and unrelenting steadfastness, regardless of what the seasons are doing.
In landscape design, they offer elegant forms with varying shades of green year-round. If you happen to live farther north, you'll also be familiar with how well these tall trees protect and defend your home, when planted in rows. Not only against potential prying eyes but, more significantly, against severe winds, rain, and snow.
Columnar Deciduous Trees for Show
Deciduous specimens put on more of a show. On some, leaves grow in one color, mature into another, and then end the season with a spectacular autumn finale.
Others produce flowers and ornamental fruit, providing food and shelter for wildlife. All while, like evergreens, delivering vertical impact with eye-catching heights and widths.
Columnar deciduous trees can also be planted as privacy barriers from neighbors, or as welcoming features around entranceways and gates.
Spacing for Skinny Columnar Trees
Sufficient spacing for columnar trees includes:
How far should each be planted from your home or other structure?
How far apart should I plant them as a privacy screen to accommodate their mature size?
The answer depends on the tree variety. The best way to calculate spacing for columnar trees is to measure two-thirds of their mature width. That's how far from your home you should position your new sapling.
You may also like Trees with Fern-Like Leaves
Narrow Columnar Deciduous Trees
The more narrow the growth of a tree, the more perfect it is for small spaces. With a compact footprint and root spread, thin, columnar trees convey drama, privacy, and shade, when needed. Not to mention, intelligent design planning creates the illusion of space by drawing the eye upward.
Not limited in versatility, these make just as strong a statement in larger gardens. Evergreens provide unwavering structure and color, even when the rest of your garden is dormant. Deciduous cultivars offer the same, but with seasonal interest and eye-catching, architectural form, in winter.
Slender Silhouette Sweetgum Tree
The slender Sweetgum is a deciduous ornamental that can grow to a lofty 50 feet tall. Yet, with only a 4-foot-wide silhouette, in zones 5-8. Bright green, star-shaped leaves (similar to maple leaves) emerge in spring, dotted by small white flowers.
In autumn, Sweetgum foliage reveals vibrant under-pigments of scarlet, gold, copper, and plum. Flowers develop into small, spiky balls that are often used in fall decor, and the tree's bark has natural furrows that deepen with age.
These trees thrive in full sun to partial shade and moist, well-draining soil with a broad pH range of 5.0-7.4.
Lombardy Poplar Tree
With the bottom 3ft of trunk remaining bare, a row of Lombardy poplars appears as massive pegs across the landscape.
Growing up to 60ft, in height, with a 10-15ft spread, (at a rate of 6ft, per year!) this towering tree is often chosen for effective property borders that protect against the elements. Even after its deciduous foliage has fallen. These trees will produce rounded, triangular leaves and long, tubular flower clusters of dark pink or white, which progress into pea-sized seed pods, in autumn. Poplars prefer full sun and fertile, well-draining soil with a 4.5-8.5.
Armstrong Gold Maple
For showy plumes of fall color, that seem to shoot straight out from the ground, the graceful Armstrong gold can't be beaten.
Lush green foliage on dark red branches emerges in spring and grows dense in summer, before fading to butter yellow and pumpkin hues. Small red flowers seem to grow wings, characteristic of maple seed pods.
These unique maples reach 40ft tall at maturity with a 12ft spread. Despite having smaller leaves than wide-growing Maple cultivars, these are an excellent choice for deciduous privacy barriers, in zones 4-9.
Full sun and acidic, well-draining soil will encourage vigorous growth and optimal foliage color.
Columnar Ginkgo Tree
This drought-tolerant Ginkgo provides brilliant color without needing much room to mature. The columnar ginkgo has the potential to grow to 50ft, in height, at a rate of 12-18in per year. Yet, can be kept at a more manageable size, in zones 3-9.
Stout branches are laced with large, delicate, fan-shaped leaves that emerge a pale spring green and age to a rich, golden hue at year's end. In winter, striking, natural architecture can withstand temperatures down to -40°F/C
Ginkgos prefer full sun to partial shade and well-drained loam with a pH of 5.0 to 8.0.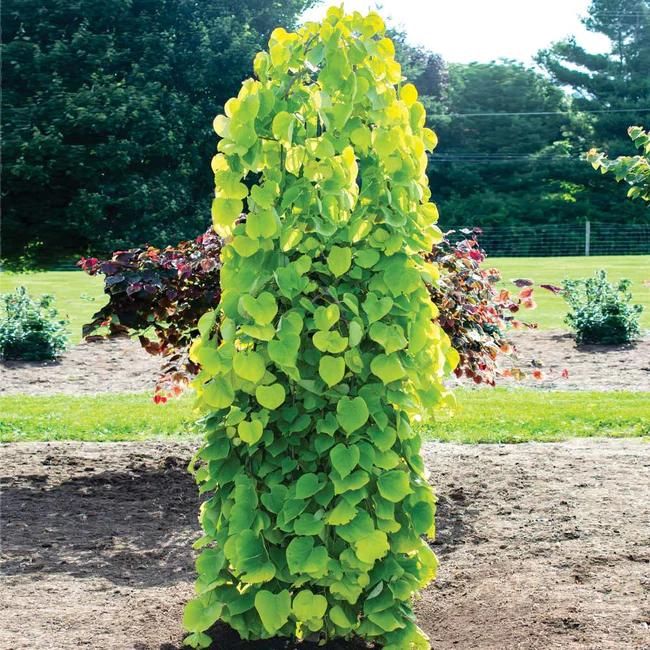 Golden Falls Redbud Tree
Lilac-pink blooms welcome spring on the only weeping variety in the Redbud family.
Once spring blossom is spent, pale green leaves (also unique to Redbuds), sunkissed with a tinge of copper will follow. All of these hold their color well, even in the hottest summers of zones 5-9.
A single, upright trunk matures to 10ft high, while downward-arching branches fill out to a width of 4ft. This provides stunning contrast in a diverse garden, without overwhelming the space with massive height.
Weeping Redbuds prefer full to partial sun and fertile, consistently moist soil. Yet, they are pretty tolerant of most planting environments and grow well in pots, too.
DannaSpire Columnar Elm Tree
Neat and narrow, upright branches stay close to the main trunk of the DannaSpire Elm. Creating an aesthetic that's perfect for lining property borders and front home elevations, while leaving room for low underplantings.
This towering Elm cultivar matures to 25ft tall by 5ft wide, at a rate of 3-6ft per year, in zones 5-9. Providing a strong, upright presence that shimmers with varying shades of yellow, peach, and orange, in fall.
While tolerant of most soil conditions, Elm trees prefer full sun. What makes this Elm cultivar a great choice is that they aren't susceptible to Dutch Elm disease.
Beacon Swamp White Oak Tree
Along with its rare, columnar appearance, the Beacon Swamp is one of few white Oaks that can easily tolerate soggy conditions while maturing to a grand size of 35ft by 16ft.
Light, beryl-colored foliage sprouts in spring and slowly ages through the growing season to a rich green. These glossy, lobed leaves then take on a bright, golden yellow hue in autumn, adorned with tiny, dangling acorns.
Despite being tolerant of compacted soil and boggy conditions, the Beacon Oak responds to full/partial sun and well-draining soil with optimal growth and vitality, in zones 4-8.
Sky Tower Ginkgo Tree
Like the columnar ginkgo tree, the Sky Tower is descended from ancient trees growing before the dinosaurs' time. Today, this almost-neon cultivar can be found in many a tight space where upright growth is desirable.
Maturing to a potential 20ft tall and 8ft wide, the Sky Tower ginkgo is a popular choice for privacy barriers. While also adding hardy height and dimension to wide, open garden spaces in zones 3-9.
This ginkgo cultivar thrives in well-drained soil, and full sun and is well adapted to everything from hot and humid to -30°F (-34°C).
Parkland Pillar Birch Tree
The gorgeous color of this skinny tree will create the sensation of stepping out your door and into a national park.
With dense, upright growth, extending to 40ft by 7ft, the Parkland Birch displays the familiar, "exfoliating" white bark. Lush foliage puts on a brilliant autumn show, fading from the darkest of greens to an iridescent gold that catches the afternoon sun and reflects it back out.
This color is most vibrant when trees are planted so that the foliage gets full sun. Roots grow close to the surface and can easily scorch in direct sunlight.
Crimson Pointe Purple Leaf Plum Tree
The slender Crimson Pointe Plum is an ornamental tree with an interesting story. Did you know that any Purple leaf plum cultivar will take on a narrow growth habit if it's planted in poor soil?
In columnar form, this Crimson Point bloomer will grow to 25ft. Yet, maintain a width of just 6ft. Lightly scented flowers emerge before dark plum leaves, in spring. Making this a beautiful accent in mostly green landscapes.
In full sun and consistently moist (but, not soggy) soil, this narrow fruiter will grow at a rate of 1-2ft, per year.
Tall Skinny Evergreen Trees
Lush forests of towering evergreens are common sights in certain parts of the world. Giving rise to the term "leaders", describing those who travel there just to see nature's autumn tapestry of evergreen and deciduous trees.
Closer to home, tall, skinny evergreens offer much more than just scenery. These slender specimens are absolutely ideal as feature trees, privacy screens, and foundation plantings.
Certain varieties can also serve as a hedge or shrub border with others having small enough root systems to grow happily in pots. Composing a beautiful, living frame around doorways, gates, and long driveways.
Leyland Cypress Tree
A close cousin to the Italian variety, the Leyland cypress presents the same fan-like foliage on densely growing branches, but with a much wider girth. This is also one of the fastest-growing, narrow evergreens.
Maturing 60-70ft tall, with a 25ft width, the low-maintenance Leyland can add up to 4ft in size, per year, even in poor soil. There's really not a better option for a privacy screen.
Not minding a bit of warm weather, lush sprays of blue-green foliage spiral around each branch when planted in full/partial sun and fertile, well-draining soil, in zones 6-10.
Emerald Green Arborvitae
The Emerald Arborvitae is a conical conifer that likes colder weather and is better suited for privacy screens and feature plantings in tight spaces.
Maturing to a mere 15ft tall and 4ft wide, the Emerald green is more accessible, in terms of pruning, than larger varieties and performs just as well.
However, foliage growth on an Arborvitae is a bit more refined. Sprays of deep green grow in wider fan shapes but grow closer together. Giving each tree a more fluid and color-variant appearance.
Especially when planted in full/partial sun and consistently moist, well-draining soil, in zones 3-8.
American Arborvitae
If you prefer Arborvitae but need something a bit larger, the American Arborvitae cultivar prefers the same climate (zones 3-8) as the Emerald. Yet, it grows to a much bigger size.
Expanding to potential proportions of 60ft tall by 15ft wide, at maturity, this American Arborvitae has a slower growth rate than the emerald, making pruning far less necessary. While delivering the same lush foliage with that lovely movement and color variance.
Arborvitae, in general, adapt well to a wide range of soil conditions. But, grows best in moist, well-draining loams. In maturity, though, these become far more drought-tolerant.
Brodie Eastern Red Cedar Tree
Another great choice is the durable and reliable cedar. The Brodie Eastern was first cultivated by Proven Winners to be deer and pest-resistant, as well as drought-tolerant, in harsh weather zones 3-9.
This thickset, columnar evergreen produces ornamental, blue-green berries, in autumn, and will reach a maximum size of 20' tall by 7' wide. Young saplings will reach half of that in just ten years.
While not as fast as an Emerald Arborvitae, the Brodie Cedar will grow lush and green without yearly pruning, when planted in full/partial sun and moist, well-draining soil.
Blue Atlas Cedar Tree
Still tough and reliable, the Blue Atlas Cedar has a look all its own. Maintaining a tall, narrow form, the foliage emerges as clusters of soft, silver-blue needles that grow on alternate sides of long, arching branches. Seed cones begin to develop in late summer, ultimately giving this tree a quintessential winter appearance, in zones 6-8.
The Blue Atlas prefers full sun and well-draining soil. Planting it near your front entryway will add soft height and drama. A 40' clearance from your home will give it the room it needs to grow without strain on your foundations.
Slender Hinoki Cypress
The Hinoki Cypress will not be outdone when it comes to uncommon looks. Compared to Italian and Leyland cultivars, the Slender Hinoki presents short, outward-reaching branches on a very tall, visible trunk.
Flat sprays of yellow-green (reminiscent of water ferns) grow in clusters along each branch, giving the Hinoki a feathery appearance, which takes on a subtle burgundy hue, in late autumn.
This Cypress cultivar gradually reaches a mature 12ft by 5ft, in zones 4-8. As it does, it will easily adapt to your soil type, as long as it gets 6-8 hours of full sun, per day.
Sky Pencil Holly
The Sky Pencil Holly has the straightest profile on this list. Stretching skyward to a height of 10ft, at maturity, with a very narrow, 2-3ft breadth.
As an evergreen shrub, this Holly cultivar presents glossy green foliage, year-round. New leaves emerge pale green and get darker as spring merges into summer. Tiny white flowers then appear, followed by small black fruits.
Vibrant, gradient color, flowers, and fruit result from being planted in full sun and loose-fertile soil. Similar to other holly varieties, the Sky Pencil remains hardy and green down to -23°C (-10°F), in zones 6-9.
Moonglow Juniper
For something completely different, this Moonglow Juniper holds a high distinction, in landscape design, for a few reasons. Feathery, grey-green fronds impart a lovely, ornamental contrast to darker plantings nearby, and appear to glow, as if bathed in moonlight, when illuminated, at night.
This beauty is perfect for the cold climates of zones 4-7, displaying its opalescence right through winter. Slow-growing, the Moonglow Juniper is steadily 16ft tall by 7ft wide, requiring far less pruning than faster-growing varieties.
Preferring to be planted in full sun, it's quite adaptable to both dry and moist conditions. But, it will not fare well in soggy soil.
Skyrocket Juniper
Looking for a faster-growing, ornamental juniper? Look no further than the SkyRocket. As the name implies, this cultivar matures in just 2 years. Eventually, it reached 35ft, with an 8ft spread.
The branches grow parallel to the trunk for a tighter appearance that requires little pruning, despite its fast growth rate.
Aromatic, blue-green fronds spiral around each branch, giving way to tiny yellow and green flowers. Which later develop into blue, Juniper berries.
Like the Moonglow, the SkyRocket prefers at least 6 hours of full sun per day and is adaptable to most soil types, in zones 3-8.
Taylor Juniper Tree
This final Juniper more closely resembles a Leyland Cypress than other Junipers and grows even faster. This narrow variation of an Eastern Red Cedar reaches a mature size of 20ft by 4ft wide, at an astounding rate of 3-5ft, in a single year.
Blue-green fronds take on a more silvery tone when the soil pH changes a bit and nicely fill out a straight and tall form. Adding texture and drama to any landscape.
The Taylor Juniper thrives in full sun and well-draining soil, performing well as a hedge or windbreak around your property, in zones 4-9.
Italian Cypress
Finally, we come to the supermodel of evergreens. Tall and slender, the Italian Cypress makes a dramatic statement around entryways or when planted, en masse.
These rapidly growing conifers develop 12-24" of new growth per year as they move toward maturity. At this time, they can grow to 60' in height with a narrow girth of just 3-6'.
Small, dark green fronds grow in a spiral pattern around each branch giving these trees a lush appearance. They grow best in full/partial sun and fertile, acidic soil and are tolerant of a broad range of climates. Typically, zones 5-10.
Dwarf Italian Cypress
Of course, elegance and drama are not just for large, open spaces. For privacy and presence in small gardens, I present the Dwarf Italian Cypress. Offering all the same features as the previous version. But, without the skyscraper size.
The unique, compact structure of this cultivar features full-sized, blue-green fronds on much shorter branches. Allowing you a tidy, well-groomed tree, for limited spaces, in warmer climates, that doesn't grow beyond 9ft x 2ft, in zones 8-10.
Dwarf Italian Cypress are happiest when planted in full sun. Yet, they're quite tolerant of drought and different soil conditions.
Final Thoughts: Tall Skinny Trees
Incorporating tall skinny trees, like columnar trees into your landscaping is a great way to add a touch of elegance to your home.
Some of the best tall skinny trees are Hinoki Cypress, Sweetgum, Taylor Juniper, and Dwarf Italian Cypress, just to name a few.
Depending on your space, needs, and desired aesthetics, you can create a visually stunning landscape that is a true testament to nature's artistry.
FAQs On Tall Skinny Trees
What trees grow tall and skinny?
Trees like Lombardy Poplar, Slender Silhouette Sweetgum, and various columnar cypress trees have a tall and skinny growth habit. These trees are ideal for landscaping in limited spaces, providing height without taking up too much lateral space.
What are the tall skinny cypress trees called?
The tall skinny cypress trees are often referred to as Italian Cypress or Dwarf Italian Cypress. These elegant evergreens are known for their slender columnar form, making them popular choices for adding vertical accents to landscapes.
What are skinny evergreens called?
Evergreens like Emerald Green Arborvitae and Moonglow Juniper are examples of skinny evergreens. These trees maintain a narrow and upright growth pattern, making them suitable for tight spaces or as privacy screens in gardens.
What are the tall skinny trees in Florida?
Trees like Sky Pencil Holly and Skyrocket Juniper are commonly used as tall skinny trees in Florida landscapes. Their compact yet tall growth makes them well-suited for the warm climate and limited space often found in Florida gardens.
What oak tree is tall and skinny?
The Beacon Swamp White Oak is an example of a tall and skinny oak tree. Despite its slender appearance, it can reach a grand size while adding a unique columnar element to landscapes.
What is the thinnest tree?
The Slender Hinoki Cypress is an example of a thin and tall tree. Its distinctive feathery appearance and tall trunk make it a fantastic choice for bringing both height and texture to gardens and yards.
What is the narrowest privacy tree?
In a small space, the Sky Pencil Holly is by far the best privacy wall choice. Maturing to just 10ft by 2ft, you won't need many to create that solitude.
For larger spaces, you can't get any thinner than the Italian Cypress. Growing to a towering 6ft, yet limited to a 3-6ft width, a few of these will create a very tall living wall with little maintenance.
You might also be interested in these articles: